Lehrkräftefortbildung Informatik 2021
Informationen zur Lehrerkräftefortbildung Informatik 2021
Informationen
Wir freuen uns, Ihnen auch in diesem Jahr eine Lehrkräftefortbildung anbieten zu können. Auch in diesem Jahr findet die Fortbildung virtuell statt. Die Fortbildung will neuere Ergebnisse und Trends in der Informatik vermitteln, das vorhandene Fachwissen aktualisieren und mögliche Auswirkungen auf den Informatikunterricht thematisieren.
Die Fortbildung wird am Freitag, den 03.12.2021 von 08:00 bis ca. 12:15 Uhr stattfinden.
Sollten Sie darüber hinaus noch weitere Fragen haben, können Sie sich jederzeit an uns wenden.
Geplanter Ablauf
Achtung: Änderungen des Ablaufs sind nicht ausgeschlossen.
Veranstaltungsort
Die Veranstaltung findet virtuell per ZOOM statt.
Dazu ist die vorherige Installation des ZOOM-Clients zu empfehlen, ist jedoch nicht zwingend erforderlich. Sie können auch über den Browser an den Vorträgen teilnehmen.
Lehrstuhl Theoretische Informatik
Prof. Dr. Barbara König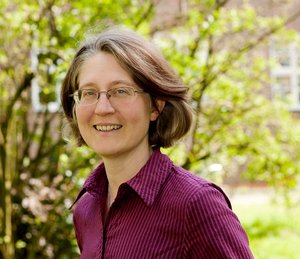 Bisimulationsspiele
In der Informatik hat der Begriff des Spiels nicht nur bei Computerspielen eine Bedeutung. Er beinhaltet Interaktivität, Strategie, Kooperation, Begriffe, die auch in der Informatik eine große Rolle spielen! Spiele werden oft als Metapher eingesetzt, um Konzepte anschaulich zu definieren.
Hier beschäftigen wir uns mit Bisimulationsspielen im Zusammenhang mit zustands-basierter Modellierung und Verifikationsverfahren. Mit Hilfe solcher Spiele kann man anschaulich charakterisieren, ob zwei Systemzustände verhaltensäquivalent aus der Sicht eines externen Beobachters sind. Solche Spiele sind einfach zu verstehen, können von zwei Personen oder Teams gegeneinander gespielt werden und vermitteln anschaulich den Begriff der Verhaltensäquivalenz.
Zur Person
Frau Prof. Dr. Barbara König hat seit dem Jahr 2006 eine Professur für "Theoretische Informatik" an der Universität Duisburg-Essen. Sie hält Lehrveranstaltungen zu verschiedenen Aspekten der theoretischen Informatik (Logik, Automaten und Formale Sprachen, Berechenbarkeit und Kompexität, sowie weiterführende Masterveranstaltungen). Seit 2020 ist sie Studiendekanin der Fakultät für Ingenieurwissenschaften.
Homepage
https://www.uni-due.de/theoinf/people/koenig.php
More Information
Institut für Informatik und angewandte Kognitionswissenschaft
Jun.-Prof. Irene-Angelica Chounta, Ph.D.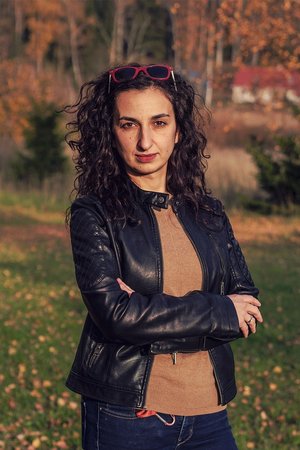 Using Learning Analytics to Design Personalized Student Models and to Provide Student-Centered Feedback
In this workshop, we will discuss how to provide personalized interventions with the aim to support students through the application of learning analytics and pedagogical reasoning. We will demonstrate how to apply various computational algorithms on existing data and attempt to interpret findings based on established educational theories. Then, participants will design appropriate feedback to facilitate learning, taking into account students data and the principles of the Zone of Proximal Development (Vygotsky, 1978) and Contingent Tutoring (Wood & Wood, 1999).
This workshop aims to contribute towards bridging the gap between pedagogical theory and modern practice when it comes to scaffolding (Chounta, 2019; Gašević et al., 2015). By the end of the session, participants will be able to combine established theoretical frameworks and modern practices that build on computational and technological advances to establish appropriate learning conditions by addressing specific student needs.
References
Chounta, I.-A. (2019). Combining Machine Learning and Learning Analytics to Provide Personalized, Adaptive Scaffolding. A Wide Lens: Combining Embodied, Enactive, Extended, and Embedded Learning in Collaborative Settings.
Gašević, D., Dawson, S., & Siemens, G. (2015). Let's not forget: Learning analytics are about learning. TechTrends, 59(1), 64–71.
Vygotsky. (1978). Interaction between learning and development. Readings on the Development of Children, 23(3), 34–41.
Wood, H., & Wood, D. (1999). Help seeking, learning and contingent tutoring. Computers & Education, 33(2–3), 153–169.
Hinweis: Dieser Vortrag findet auf Englisch statt.
Zur Person
My name is Irene-Angelica Chounta, and since April 2021, I hold a Junior Professorship in the Department of Computer Science and Applied Cognitive Science (INKO) at the University of Duisburg-Essen. There, I lead the interdisciplinary research group – colaps, www.uni-due.de/colaps/-- that explores the use of Computational Methods in Modeling and Analysis of Learning Processes. My main research interest is to model learners' behavior to provide evidence-based, adaptive and personalized feedback and my contributions are in student modeling, artificial intelligence in education (AIED), and learning analytics.
Homepage
More Information
Fachgebiet Kommunikationsnetze und -systeme
Prof. Dr.-Ing. Amr Rizk & Agostino Moosdorf
Software-definierte Netze und ihr Beitrag zur resilienten Infrastruktur
In diesem Vortrag werden aktuelle Trends der software-definierten Vernetzung eingeführt und diskutiert. Ausgehend von der Entwicklung der Kommunikationsinfrastruktur in den letzten Jahren werden Risiken und Chancen programmierbarer Netze hervorgehoben und in Bezug zu Bestrebungen wie Netzadaptivität und Infrastrukturresilienz in Verbindung gesetzt.
Dieser Vortrag ist darauf gerichtet, einerseits einen Überblick über die Möglichkeiten der Netzflexibilisierung zu geben und andererseits einige Basisverfahren der Netzprogrammierung zu zeigen.
Zur Person
Amr Rizk ist Professor an der Universität Duisburg-Essen und leitet dort das Fachgebiet Kommunikationsnetze und – systeme am Forschungsinstitut für Softwaretechnologie paluno. Seine Forschung beschäftigt sich mit Methoden der Leistungsbewertung von Kommunikationssystemen, die modell-basierte Steuerung adaptiver, software-definierter Kommunikationsnetze und den Entwurf flexibler, resilienter Echtzeitsysteme mit deterministischen oder stochastischen Leistungsgarantien.
Er studierte Wirtschaftsingenieurwesen an der TU Darmstadt bis 2008, promovierte im Jahr 2013 an der Leibniz Universität Hannover und habilitierte sich im Jahr 2019 im Fach Kommunikationsnetze und –systeme an der TU Darmstadt. Nach seiner Promotion arbeitete er zwischen 2014 und 2016 als Post-doctoral Fellow zunächst an der Univeristy of Warwick, UK dann an der University of Massachusetts, Amherst, USA. Nach seiner Rückkehr 2016 an seine Alma mater, die TU Darmstadt, hat er eine Nachwuchsgruppe als Athene Young Investigator bis 2019 geleitet bevor er zum Juniorprofessor an der Universität Ulm ernannt wurde und im Anschluss in 2021 als Professor an die Universität Duisburg-Essen wechselte. Gemeinsam mit seiner Arbeitsgruppe hat Amr Rizk mehrere akademische Preise erhalten wie beispielsweise das Best-Paper Award der ACM/IFIP Middleware Tagung in 2017.
Agostino Moosdorf ist wissenschaftlicher Mitarbeiter in der Forschungsgruppe von Prof. Rizk. Er beschäftigt sich mit software-definierten Kommunikationsnetzen und die Extraktion und Verarbeitung von Informationen in programmierbaren Datenebenen. Anwendungen seiner Forschung liegen im Bereich Datenzentrumsnetze und Zugangsnetze.
Homepage
https://www.ncs.wiwi.uni-due.de/team/amr-rizk/
https://www.ncs.wiwi.uni-due.de/team/agostino-moosdorf/
More Information